Luxury, performance, and innovation are all hallmarks of the Audi nameplate, as anyone who has settled into the cockpit of an Audi vehicle can tell you. While the automaker is constantly striving to enhance the driving experience in every facet, technology is often an area where strides forward are the easiest to recognize.
Many automakers announce new technologies only for drivers to realize that they're only concepts or potential ideas for the future. Audi, on the other hand, is thrilled to provide motorists with cutting-edge technology that's available in the real world behind the wheel of many 2017 Audi models.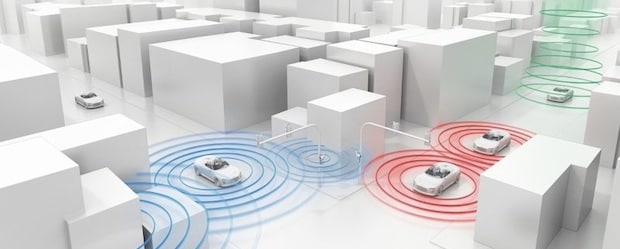 A perfect example is Audi's new vehicle to infrastructure (V2I) service—a first in the industry. This smart system works in conjunction with municipal infrastructure to provide drivers with real-time information. The system makes its debut with Traffic light information, which will be available on select 2017 Audi Q7, 2017 Audi A4, and 2017 Audi A4 allroad® models.
What It Is
Traffic light information, available as an Audi connect PRIME feature, works to keep drivers aware of changing traffic signals in real-time. During red lights, a display in the dashboard cluster—as well as the head-up display, when equipped—shows drivers how long until the light turns green.
As Pom Malhotra, General Manager, Connected Vehicles, says, "This feature represents Audi's first step in vehicle-to-infrastructure integration. In the future we could envision this technology integrated into vehicle navigation, start / stop functionality and can even be used to help improve traffic flow in municipalities. These improvements could lead to better overall efficiency and shorter commuting times."
How It Works
To provide drivers with such critical information in real-time, the Audi Traffic light information system works in conjunction with advanced infrastructure systems in metropolitan areas across the US. Traffic management systems share information with the Audi V2I via the vehicle's onboard LTE data connection.
While this system is, as Audi points out, a first step toward many other exciting features, it is also very exciting for modern motorists in its own right. For more information on this new system, as well as Audi's latest vehicles, be sure to contact Audi Mission Viejo online or to call our team at (949) 429-0166 today!