The BNP Paribas Open kicked off on March 6th, but it's not too late to be a part of the world's largest ATP World Tournament and WTA Combined Professional Tournament! The tournament runs through the 19th, so you can still get in on the action.
Last year, 438,000 spectators came to watch the matches and enjoy all of the festivities. The tournament is known for Indian Wells' perfect March weather, and the team at our Southern California Audi dealership can attest that beautiful weather is simply waiting to be enjoyed!

The stakes are high at the tournament, as well, adding to the electricity in the air. With the top athletes in the sport competing, the BNP Paribas Open features a 96 singles draw and 32 doubles draw. Over $10 million is on the table in prize money, with a $1 million prize purse awaiting each of the champions.
Two-Week Tennis Tournament Rounds Out Winter on a High Note
For most attendees, general parking is available at the BNP Paribas Open at a cost of $20 per vehicle, per entry. Audi drivers, however, have a more enticing option available.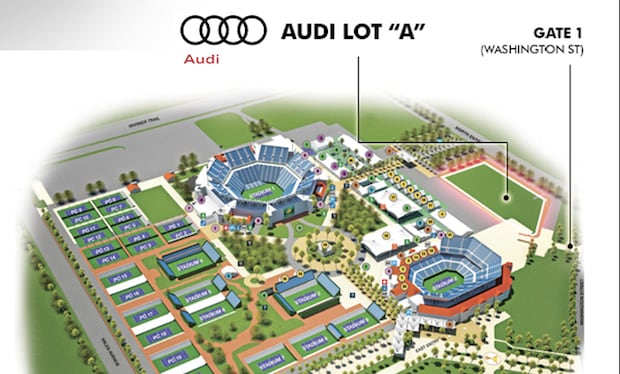 Audi is the official luxury vehicle of the BNP Paribas Open, and Southern California drivers can print a preferred parking pass through our dealership! Passes, which are still available for Sunday's events, allow Audi drivers to park in the preferred Audi "A" Lot. Note that passes are only valid when parking your Audi vehicle.
To reserve and print your Audi preferred parking pass, simply visit our site. If you have any questions about the event or how preferred Audi parking works, don't hesitate to reach out to the Audi Mission Viejo team directly by contacting us online or by giving us a call at (949) 429-0166 today!
Reserve Audi Preferred Parking Pass
*While supplies last (maximum of 250 passes per day). Parking pass only valid with an Audi vehicle.