Fastest Recorded SUV in Germany

#1 SUV track time on the infamous 12.9 mile

long track of Nürburgring in Germany

For far too long, US citizens have felt like the red headed step-child when it comes to RS Audi models - only having access to certain RS coupes and sedans up to this point. And now to FINALLY see this changing, it feels like our time has finally come.
After being teased and anticipated for more than 2 years, Audi is releasing the RS Q8 SUV, and us Americans will be able to get our hands on it too come 2020! With so much research, design, testing, and collaboration going into this revolutionary project, there is plenty of important information to explore and Audi Mission Viejo is happy to do so and answer all of your burning questions.

Today we'll be getting into all of the important details such as:
- Price
- What's New

- Release Date
- Performance Specs

- History of the RS Q8

- First Drive Impressions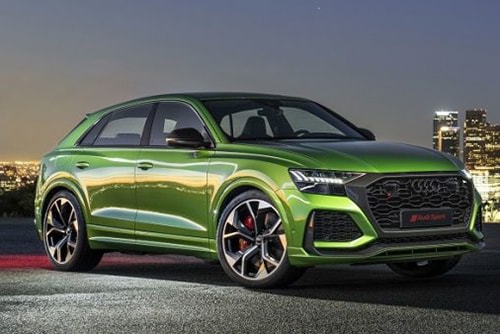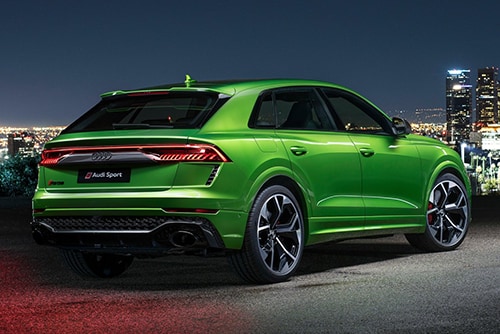 History of the RS Q8

While we don't want to wait too long for the actual release of the 2020 RS Q8s next year, we really are at the very finish line for how long that we have been aware of the plans to create this beast. Over 2 years ago, around August, 2017, it was made public that Audi had filed a trademark for the RS Q8 amidst high-level employees mentioning the focus of their attention towards the growing demand for faster SUVs. This solidified the idea that Audi would be focusing more efforts into their Q-series, and more importantly their RS models.

About a year later, pictures began popping up online of a disguised spy pilot version of the RS Q8 driving around which had us buzzing with anticipation more than we already were. We couldn't believe how intimidating it looked. And now one year later, we've finally since gotten behind the wheel and can confirm that it drives just as aggressively as it looks.

We believe that 2020 might be the start of a very happy relationship between Americans and Audi RS models, as this is not the only RS becoming available to us next year. The 2020 RS6 Avant (
which you can read about here
), is also coming stateside for the first time ever after garnering a massive European fanbase over the years. It seems to be no coincidence that these releases are coinciding, hinting at surge in RS development, and we hope that the US audience really shows up in demand so that the trend continues!

Price & Release Date
Two of the most important pieces of information concerning eager customers of the RS Q8 are the price of the SUV and the release date. Can I afford it? And when can I get it?
While neither of these things are 100% confirmed as of now for the United States (we will be sure to update as soon as they are, which should be soon!), we have pretty good guesses as to both because of information confirmed for the rest of the world.


Price: €127,000 / ~$141,000
 It has been said that the RS Q8 will be between €120,000 - €127,000 for Europeans which would convert to $134,000 - $141,800
Release Date: January - March,  2020
Americans should expect a domestic release shortly after our friends across the ocean sometime in Q1

What's new for the RS Q8?
So what makes the RS Q8 so special? The RS version is based on the original Q8 and looks very similar from the exterior apart from a few changes that add a bit of aggression to its appearance such as an upgrade to 22-inch wheels, trademark RS honeycomb grille, an extended wider body, rear spoiler, and more. Under the hood, however, is very different to create the ultimate sport utility vehicle.
Under the hood, however, is very different to its original form with a 4.0L V8 engine replacing the 2019 Q8's 3.0L V6 engine. This makes the RS Q8 nearly unrecognizable in terms of performance next to the previous model due to so much added power. In combination, both the suspension and brakes were upgraded to ensure that it could smoothly handle all of the additional power pushed through its Quattro AWD system.
The interior is expected to remain mostly unchanged aside from more heavily padded seats to support drivers through sporty maneuvers, and slight cosmetic differences such as RS logo graphics splashed about. That means that you still get to enjoy all of the head, leg, and cargo space that the Q8 is known for.
No corners were cut in order to boost performance at the expense of comfort.
2020 RS Q8

0-60 mph: 3.6 seconds
Horsepower: 592
Torque: 590 lb-ft
2020 Q8

0-60 mph: 5.6 seconds
Horsepower: 335
Torque: 369 lb-ft
Results

+ 257 HP
+ 221 lb-ft
- 2 seconds


First Drive Impressions
Very recently, many media publishers were finally finally able to test out the RS Q8 for themselves in Tenerife, one of Spain's Canary Islands, after many months of slow build up - and the one question that was on everyones mind.. Does it live up to the hype??

The answer seems to be an overwhelming yes, with the general consensus being that if you like SUVs and the Q8, then you will fall in love with its RS counterpart. Constantly being compared to the Lamborghini Urus and their similarity, critics are calling for a new age of SUVs - one in which the RS Q8 is dominating.

Multiple driving modes allow you to tackle any environment and choose exactly how you would like to drive. Aside from its standard mode, there is Off-Road, Dynamic, Comfort, and its sport modes RS1 and RS2. These different settings affect the power, suspension, brakes, and other settings that change the overall performance of the vehicle which makes the RS Q8 one of the most well prepared SUVs on the market right now.