Here at our Mission Viejo Audi dealership, some questions from customers crop up more often than others. One inquiry that we often hear from eco-conscious shoppers is a seemingly simple one: what is Audi e-tron®?
Answering this question, though, isn't as straightforward as you might expect. That's because e-tron® isn't a single design or piece of technology. Instead, e-tron® refers to the automaker's whole approach to eco-conscious, sustainable mobility.
When we use the term "e-tron®," we're referring to any vehicle in the Audi lineup that can cover a long distance using only electric energy. The Audi A3 sportback e-tron® is a perfect example.
What Types of Technology Does e-tron® Include?
The goal of Audi e-tron® is to provide the power and precision that drivers love, and to do so while also reducing or eliminating dependence on fossil fuels. This comprehensive approach includes a range of innovative approaches, from fully electric vehicles and plug-in hybrid models to an electric quattro powertain.

No matter which form e-tron® takes, the inspiration remains the same: bringing drivers the vehicles that they love along with a greener future to enjoy them in.
The Future of e-tron®
While e-tron® has already come alive with the Audi A3 Sportback e-tron® out on the road today, Audi has big plans for the concept's future, too. The first all-electric Audi SUV, the Audi e-tron quattro, is expected to hit the streets in 2018.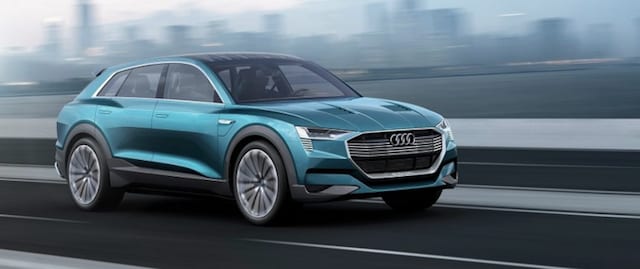 Beyond that, Audi has big plans for e-tron® in the coming years. By 2025, the automaker aims to have electric vehicles compose 25% of its sales in the U.S. market.
To learn more about where e-tron® is headed, as well as how you can take advantage of this innovative platform today, don't hesitate to contact Audi Mission Viejo online or to call our team directly at (949) 429-0166!