Service Specials
---
Parts & Accessories Specials
---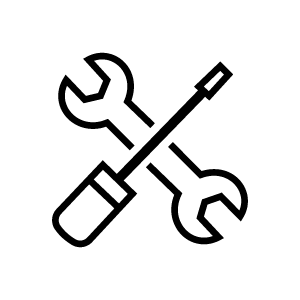 Monthly Maintenance
Discounts For Your Audi
Check in with us regularly to see all of our maintenance offers. We update our specials frequently, so it's a good idea to check for all the most recent service specials. We can help you keep all the key components of your vehicle, such as your tires, braking system, and battery in the best possible shape while also getting great discounts. You'll be surprised at the great deals we offer to Audi owners in Mission Viejo. Remember that many of these specials are only offered for a limited time. That's why it's important to take advantage of them when they're available.
---
Audi Oil Change 
Regardless of whether your car has a gasoline or hybrid engine, it will need to have its oil changed. Engine oil helps reduce friction and stress on the internal components of your car, ensuring that the engine is running at peak efficiency. At Audi Mission Viejo, our Audi technicians proudly provide you with only the best oil change services. We offer a selection of semi-synthetic or synthetic oils and will follow the manufacturer's recommendations.
Your car's oil filter is replaced during an oil change, so your Audi's engine only runs on clean, contaminant-free oil. The frequency of oil changes is governed by mileage, driving style, and temperature, and each of these factors is taken into consideration when scheduling your next service date. If you have any concerns, or you have forgotten when you need to bring your vehicle in, don't hesitate to visit or call our service department experts for help today.
Genuine Audi Parts and Accessories
Our parts department proudly orders and stocks genuine Audi parts and accessories specifically designed for your vehicle. These parts and accessories range from brakes, exhaust, suspension, car-care products, cargo mats, splash guards, to much more. You will only find affordable quality OEM parts at Audi Mission Viejo, sourced from the automotive manufacturer.
We believe in providing only the best customer service experience, so you can trust that your vehicle will get the correct part the first time, every time. No matter if you are looking to customize your Audi's appearance or enhance its convenience, get in touch with our parts specialists for more information about genuine Audi parts and accessories.
Professional Tire Center
At Audi Mission Viejo, you will find that our professional tire center is here to provide you with the best tire care in the area. Your Audi's tires are an essential part of its safety and performance. Our expert Audi technicians are ready and willing to help maintain your current tires or replace them with new tires when that time comes. No matter if you need summer or winter tires, our experts can provide the tires you need.
Vehicle Diagnostics
Is your "check engine" light on, or do you see other warnings from your Audi's driver information panel? If so, you should stop by our service department and allow us to take a look at your Audi's computer to see what is going on. After diagnosing your Audi's issues, our certified technicians will inform you of the exact problem or problems and provide you with a free estimate for repairs. There's no obligation to bring in your vehicle for a professional check.
Software Updates
Automotive technology is at an all-time high, and many Audi vehicles need software updates to access the latest available infotainment and safety technology. Without these updates, you could be missing out on essential features. Our trained Audi technicians have the skills and the tools to update your car's system. These updates also improve navigation systems, providing you with the latest map information.
---
What Kind of Service Specials Are Available at Audi Mission Viejo?
Even though they may periodically change, you may wonder what kind of service specials you can expect to find at Audi Mission Viejo. A few examples of specials we offer include:
Military discount:We offer military and first responder discounts. This 10% discount applies to all the services we offer.
Four-wheel alignment:Not only does the alignment of your Audi's wheels impact the wear and tear on its tires, but it can be a safety concern as well. With up to $50.00 off a four-wheel alignment, you can have your car's wheels aligned and extend the life of the tires.
Brake pad and rotor replacement:Brake pads and rotors are a necessity, but can be costly to replace. Save up to $100.00 when you have your brake pads and rotors replaced by our service department.
All-weather floor mats: The carpet of your vehicle takes a beating, so take advantage of a 10% discount on all-weather floor mats at our parts center.
These are only a few of the service specials we offer. Contact our service department for more information regarding available service specials.
---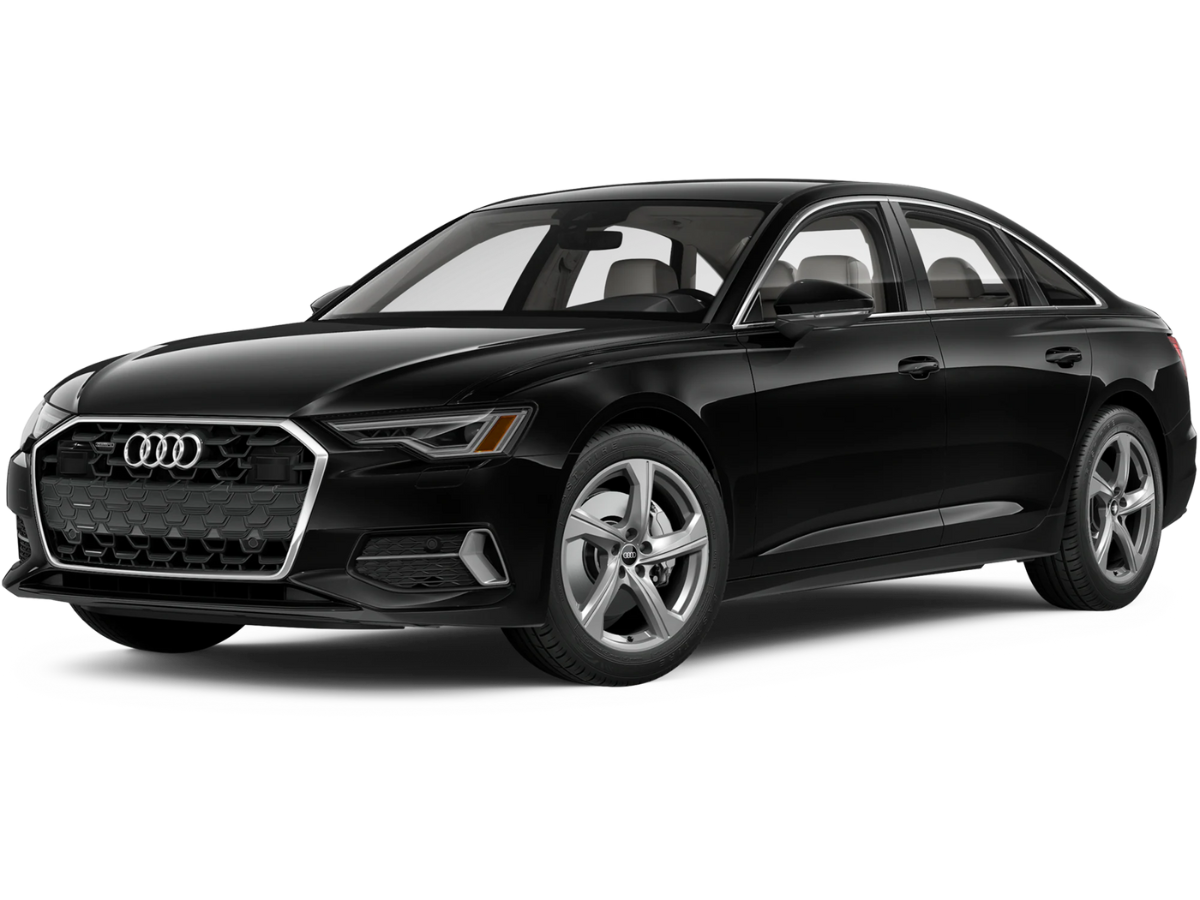 Getting Service When you Need it at Audi Mission Viejo
Our monthly maintenance discounts aren't the only reason why you should come to us for service. Another great reason is that we make it so easy to schedule service. You can schedule your service appointment online using our online scheduling tool. You can also schedule an appointment by giving us a call and speaking with one of our Audi certified technicians. We'll work with your schedule to find a convenient time for you to have your vehicle serviced.
Schedule Service

Advantages of Coming to Our Service Center
The convenience of appointment scheduling is only one small advantage of having service done at our Mission Viejo service center. There are many more advantages, and perhaps the biggest one is that our service center is staffed with technicians who can offer specialized experience. Our technicians are Audi certified to provide the expertise you want and need to optimize your vehicle's condition. We also offer a parts and gear boutique with all the OEM parts you need for the highest quality repairs.
Why Service Here?
Complimentary Amenities
Complimentary Beverage & Coffee Bar
Comfortable Waiting Area
State-of-the-Art Facility
Factory-Trained Technicians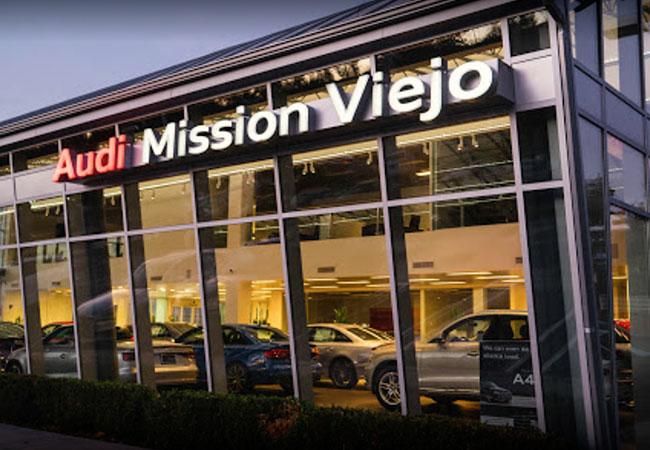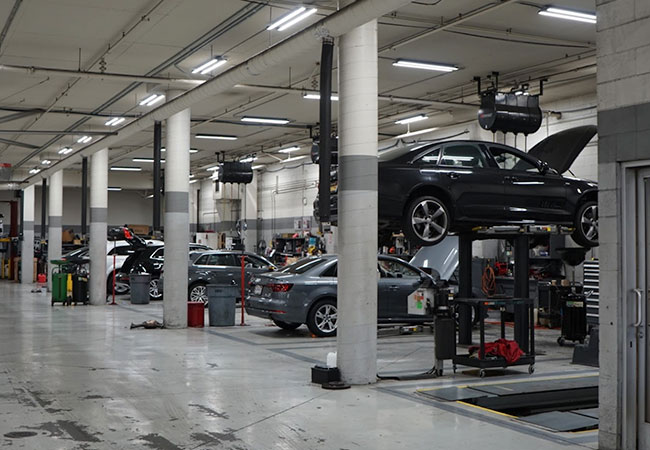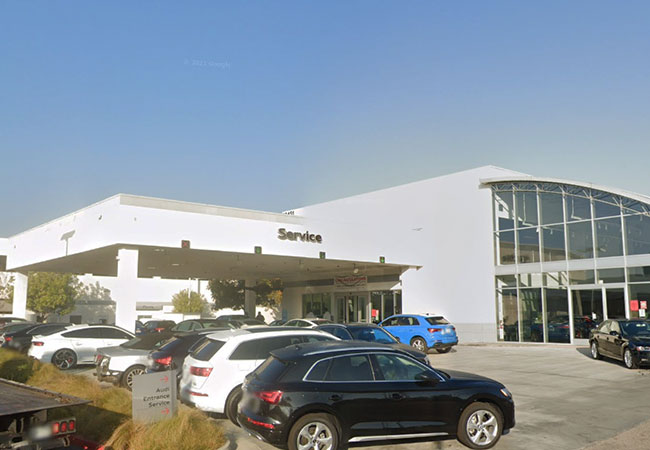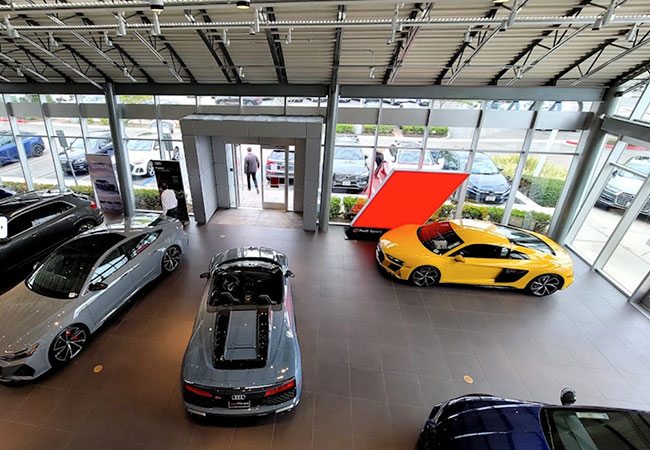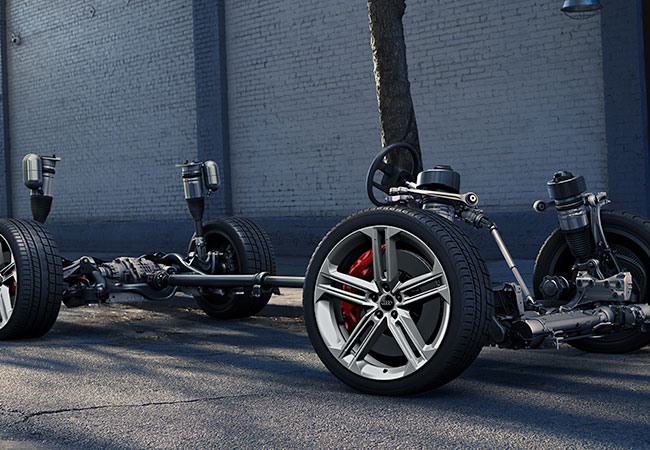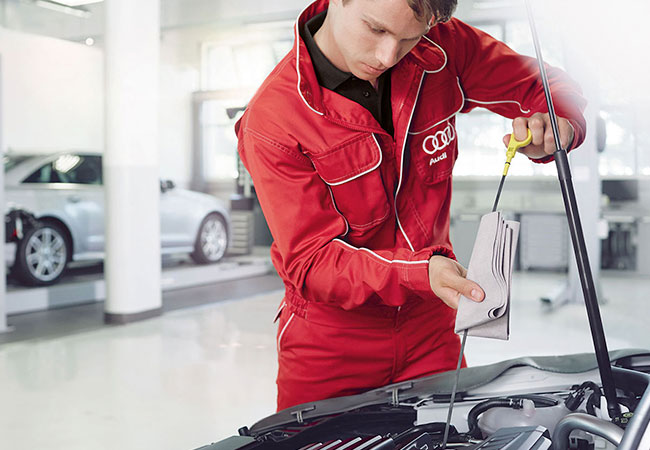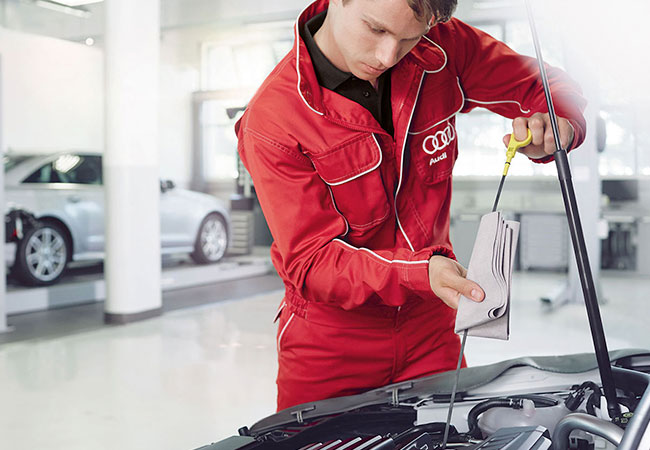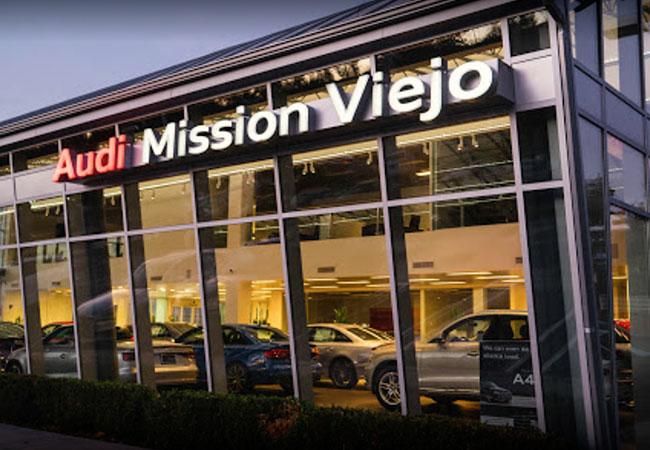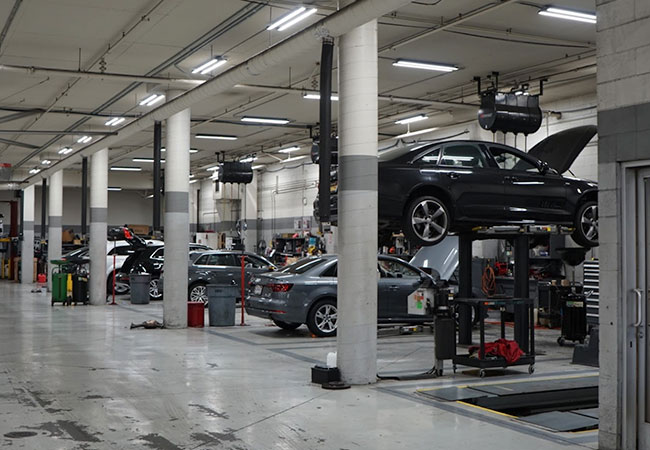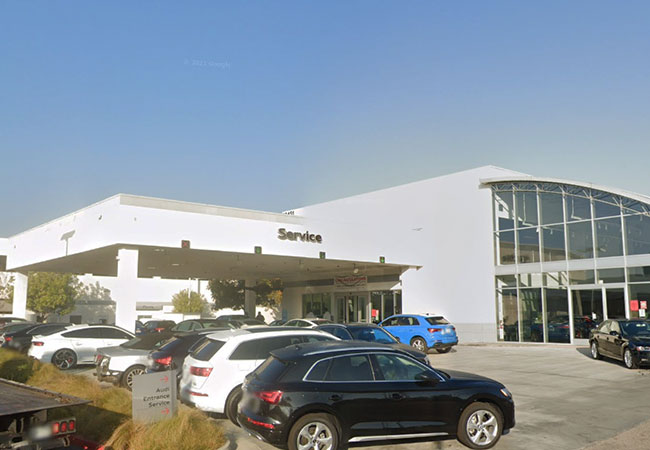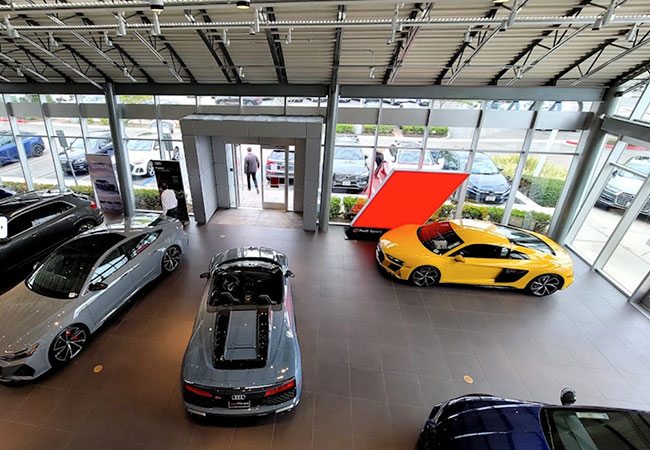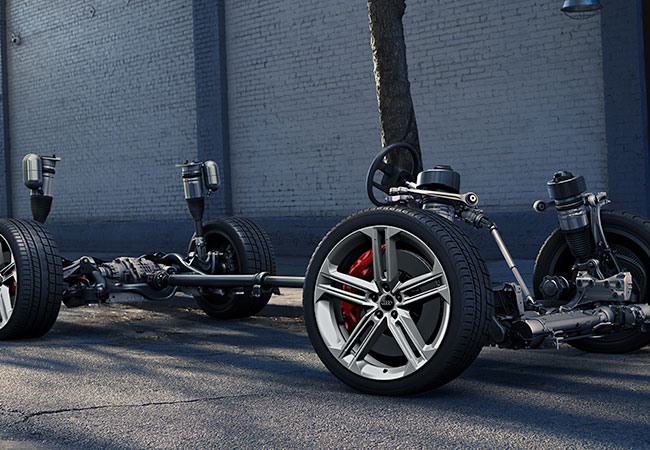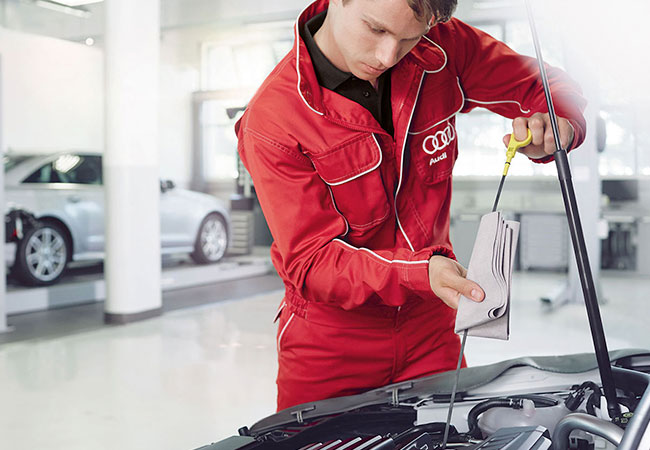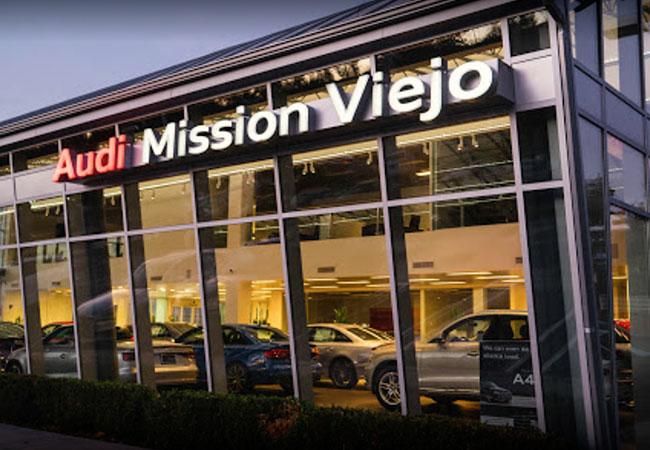 Audi Mission Viejo

28451 Marguerite Parkway
Mission Viejo, CA 92692