Interested In Our Lease? Call Us!
949-218-5090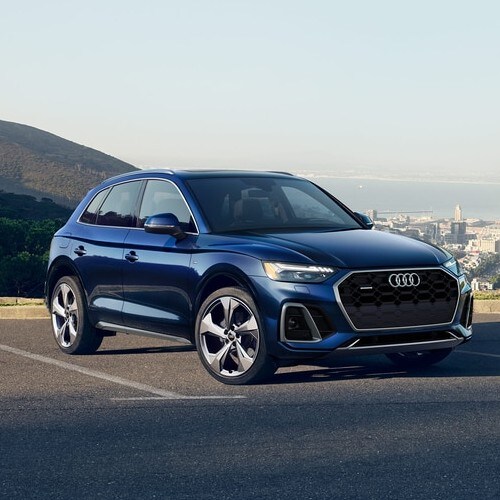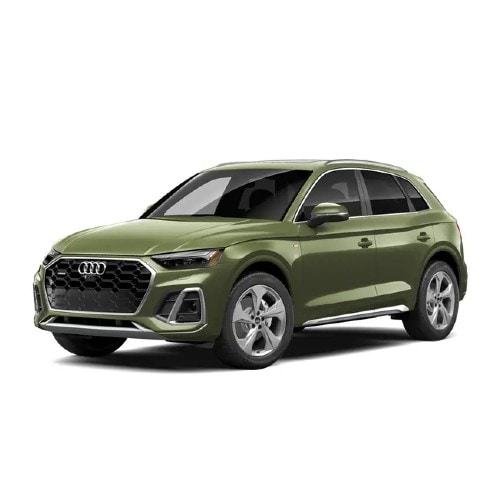 Audi Q5 Lease Deal in Mission Viejo, California
The Audi Q5 sets the standard for the quality, luxury, and performance expected from the crossover-SUV class. If you are searching for what is considered to be the most affordable way to get behind the wheel of the Audi Q5, you can take advantage of a Audi Q5 lease deal from Audi Mission Viejo.
Benefits of Leasing an Audi Q5
Our knowledgeable sales team can inform you of the advantages of a Q5 lease -  they'll discuss reasons for choosing the Q5 and for opting to lease a vehicle rather than buy one. Here are a few of the prime reasons to lease an Audi Q5:
Lower payments: Leasing a new car frequently leads to a lower monthly payment. This makes getting behind the wheel of a Q5 more attainable and leaves more money in your pocket to spend elsewhere.
More frequent upgrades: Lease deals are short-term commitments, allowing you to swap your ride for a newer model without the hassle of selling, trading, or buying. For example, when you lease a Q5, you can choose how many years to lease and then move up to the latest model once your current lease runs out.
Maintenance options: Maintenance plans are often included within a lease deal. This allows the dealership to provide expert maintenance for your Q5, in turn keeping its value intact. These plans also offer considerable savings on routine maintenance during the life of your Q5 lease agreement.
Simplified upgrades: If you aren't a born negotiator, an Audi Q5 lease simplifies your part when the lease comes due. The car's remaining value when the deal comes to an end is predetermined at the beginning of the lease. This eliminates the need to negotiate and allows for an easier transition into a new model.
Tax advantages: If you are a professional who drives a lot for business purposes, leasing a car provides enhanced exemptions or write-offs compared to owning a vehicle outright. This can assist you in saving considerably on your annual tax returns.
Quality ride: The Q5 is one of the best-quality crossover SUVs on the market, with unsurpassed ride quality, handling, and performance in its class.
Sleek styling: With the Audi Q5, Audi engineers have created another timeless automotive design. No matter where you go, the Q5 will have heads turning as you cruise past.
Passenger-focused interior: Driver and passenger comfort is of the utmost importance, and the Q5 excels with a combination of luxury, convenience, and entertainment.
Personalized technology: Customizable tech allows you to personalize your Audi Q5 user experience. This streamlines the user interface, putting your most-used features at your fingertips.
Key Features of the Audi Q5
The Audi Q5 leads the luxury crossover-SUV class with many available features that provide power and performance, convenience, entertainment, and safety.  We've listed a few of the key features you can expect from the Audi Q5 here:
An impressive 2.0-liter inline-four base engine produces 261 horsepower and a 0-60 mph time of only 5.7 seconds.
Gripping the road is second nature for the Q5, with every model equipped with Audi's Quattro all-wheel-drive system.
Comfort abounds with available luxury leather seating, front seat memory, and heated and ventilated seats.
Enjoy only the best car audio with a premium Bang & Olufsen 3D sound system. 
See the road ahead with available Matrix-design LED headlamps providing the best available visibility.
Take advantage of the Q5's adaptable interior with 27 cubic feet of cargo space behind the second row. This space grows to 60 cubic feet when the second-row seats are folded down.
Listening options are endless, with Apple CarPlay, Android Auto, and SiriusXM integration available in the Q5.
Available adaptive air suspension provides the best possible ride quality and handling performance.
The elegant yet aggressive exterior design of the Q5 captures the eye from every angle.
The Q5's customizable front display is ergonomically placed to give drivers and passengers access to all of its best tech features.
Google Earth integration allows for enhanced safety via the Q5's through-wheel navigation system.
Pick Up Your New Audi Q5 Near Laguna Beach Today
If you are in the greater Mission Viejo area looking for a new Audi, Audi Mission Viejo is ready and willing to pair you with the 2021 Audi Q5 lease that fits best with your needs. So whether you are in Lake Forest, Rancho Santa Margarita, or Laguna Beach, our customer-focused sales team can match you with the Audi Q5 of your dreams. To learn more about how our lease deals work, what makes the Audi Q5 the crossover SUV of choice, and to take a test drive, give us a call or visit our dealership today.