Interested In Our Lease? Call Us!

949-218-5090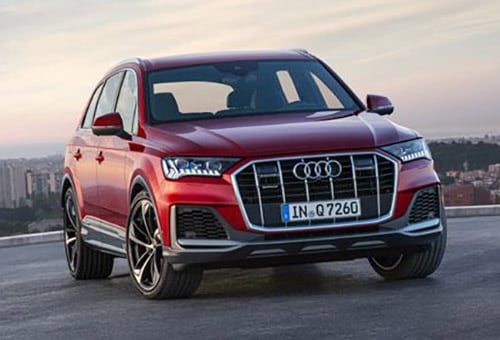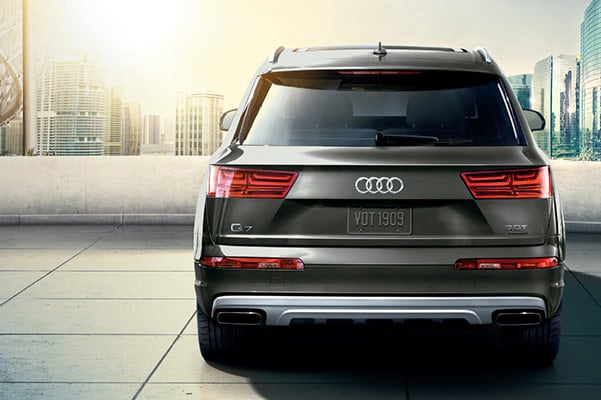 When searching for your next car, there are a lot of decisions to make. New or used, buying or leasing, and which make and model to choose can all play a significant role in helping you find your best fit. If you're in the market for a car, the Audi Q7 may provide a leasing option that meets your needs the best.
The Audi Q7 is an industry leader in the realm of luxury SUVs. Made with the quality manufacturing that has made Audi one of the most trusted auto manufacturers in the world, the Q7 provides a luxury experience from the comfortable and spacious interior to the smooth ride and many integrated entertainment options. Audi Mission Viejo is the leading Audi dealer for the greater Mission Viejo area, offering you the opportunity to lease a Audi Q7 and get behind the wheel of this magnificent SUV.
Why Lease an Audi Q7
Choosing to lease a Audi Q7 may be the best new car opportunity for you. Here at Audi Mission Viejo, we know that there are many great reasons to choose a Q7 lease, including both reasons to opt to lease over buying and reasons to choose the Q7 for your next car. Some of the best reasons to lease an Audi Q7 include:
Lower payments: When choosing to lease your vehicle instead of buying, this often leads to lower monthly payments. This means you can get behind the wheel of your Audi Q7 with more money in your pocket to spend when you get where you're going.
Keeping your cars fresh: When you lease a vehicle, it's a short term commitment that allows you to swap it in for a newer model more easily then selling and buying. With a Audi Q7 lease you can choose the number of years, then move on to the newest model at the end of your term.
Easier maintenance: Many leasing agreements come with included car maintenance plans. This helps the dealership maintain the value of the leased vehicle, and means that you can save significantly on maintenance costs during your time with the Q7.
Easier upgrading: When you sign up for a lease agreement, the remaining value at the end of the term is included in the deal. This means if you don't enjoy negotiating, you don't have to worry about it when the time comes to trade-in for your next lease. 
Improved tax benefits: Often for professionals who drive a lot for work, using a leased vehicle can provide enhanced tax write-offs compared to using a vehicle you own, allowing you to save on your annual returns.
Smoother ride: The Audi Q7 is the most smooth driving luxury SUV yet. Every time you get behind the wheel, you'll enjoy how calmly and effortlessly it navigates the roads under your guidance.
Stylish look: The Q7 has long been considered one of the most visually pleasing SUVs in the world, and the latest model is no exception. It has a sleek and stylish design that will turn heads wherever you take it.
Enhanced passenger comfort: Getting where you're going safely and comfortably is a must in a luxury SUV and the Q7 does not disappoint. It features luxurious seating for you and your passengers to make every trip as enjoyable as possible.
Customizable display: The Audi Q7 comes standard with an enhanced dashboard display system, with many excellent integration and customization features that allow you to get the most out of your display by tailoring it to your most common needs.
Key Features of the Audi Q7
The Audi Q7 is a leading luxury option, and it comes with no shortage of excellent amenities to back up its claim to the title. While these are just some of the reasons you should consider the Audi Q7 for your next lease, some of the top perks include:
A powerful 335 horsepower engine that provides 369 lb-ft of torque, and is capable of towing up to 7,700 lbs behind it safely and securely.
Quattro all-wheel drive and steering for maximum grip on the road to let you get to speed quickly and stay in control when you do, even when road and weather conditions drop.
Adaptive air suspension increases ground clearance while also keeping your drives smooth.
A stunning exterior design, that includes athletic body lines, a sculpted rear design and eye-catching single frame front grille.
HD Matrix-design headlights and animated LED tail lights keep the road illuminated and other drivers informed to keep you safer.
Adaptable interior cabin that seats up to 7 riders, with foldable seats allowing you to customize for increased storage space when needed.
Optional enhanced interior craftsmanship including luxury leather seating and front seat memory to keep you as comfortable as can be.
An efficient front display makes it easy to get the most out of your on-dash display system.
Through-wheel display of Google Earth integration to make navigating your Q7 safer.
Audi connect to easily link your phone to your car, enhancing your ability to operate it hands free when driving.
Premium Bang & Olufsen 3D premium sound system available for top of the line audio playback throughout the Q7's 17 speakers.
3-month trial subscription to Sirius XM lets you enjoy the best satellite radio whenever you go for a drive.
Come Pick Up Your Audi Q7 at Audi Mission Viejo
Audi Mission Viejo is proud to serve residents of Mission Viejo as well as our neighbors in Lake Forest, Laguna Hills and Rancho Santa Margarita. If you're ready to learn about your options for leasing an Audi Q7, give us a call or come out to see us today. Our trained staff of professionals will provide you with all the information you need to make an informed decision, take you for a test drive and help you find your next car.

FINE PRINT
New 2021 Audi Q7 Premium AWD 
Stk# A210975. VIN WA1AJAF76MD037638. MSRP $59,020. Lease for $697 per month for 36 months. 10,000 miles per year. $0.25 per mile over. $6,883 due at signing includes $3,999 down payment. $0 security deposit. Tax, title, and license fees excluded in due at signing. Available to qualified customers on approved credit. See dealer for full details. Expires 06/30/2021.